The call
We are looking for candidates as volunteers OR as partner organizations for our EVS Project about interculture, local development, social tourism, sustainability in our NPO organization named "No Border Onlus".
Period
The EVS project will start on the 1st of March 2017 for a duration of 8 months (deadline for applications: 30th September 2016).
Project topics

* Interculture and Antiracism
* Social Tourism
* Local and Rural Development
* Sustainability
* Volunteering
are the keywords of our NPO "No Border Onlus". The volunteer will be participant and protagonist of various activities of the organization that will reinforce her/him characteristics and will encourage her/him to discover new fields and passions.
 Who we are (Hosting Organization)
No Border Onlus is an NPO organization active since 2004 in territorial enhancement  activities and sharing between local community and global travellers. We promote our themes through social events and cultural animation, volunteering, youth exchanges and activities of not-formal education for youngs and kids. The headquarter and main project of our organization is WIKI Hostel, an international youth hostel that every year hosts thousends of backpakers, giving them the opportunity to discover and deeply meet the local community, that take advantage from this interaction in terms of exchanges, open-mindset  and energy. No Border is also developing with other associations a "Territorial Development Agency" and it is really active in the community life of our pretty small town, Zagarolo.
More info about us:
www.noborderonlus.org (main web site)
www.panweb.eu (our national NPO's network)
www.wikihostel.net (the blog of the hostel)
www.facebook.com/noborder (some social) 
Location and context of the project
Zagarolo is a typical Middle Age Italian old town located just 30 minutes from Rome downtown. The historical center lies on a narrow tufaceous hill, surrounded by green valleys and host many precious highlights: the Ducal palace, arches, churches, typical alleys and little streets. The pilgrim route "Via Francigena" passes through the countryside of Zagarolo. We are in the enchanting south-east of Rome area, known as "Castelli Romani & Monti Prenestini": it is a beautiful region, rich of history and featured by a tradition of good wine and tasty food. Zagarolo is a favorited departure point for visiting Rome thanks to the many direct and fast train connections between our small town and Roma downtown.
The accommodation will be provided by the organization in an apartment in the center of the town together with other volunteers. The monthly pocket money is guaranteed. We host 2 EVS volunteers involved in the same project, but we run also other projects of international volunteering that bring us to have at least 4 foreings volunteers involved at the same time in different projects.  Our association is managed by a young crew with a lot of links and friend in the local community but also a huge possibility to get in touch with travelers from all over the world 😉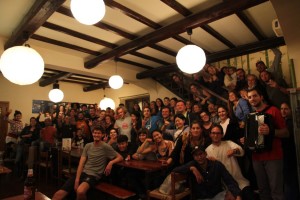 The project
Volunteers will be constantly involved in the association's activities and through the guidance of the operators will learn to move in the fields of: intercultural exchange, social tourism and sustainability, which are our key themes.The activities will be carried out as part of a team effort, through cooperation between association's members and volunteers. This will give the opportunity to acquire important soft skills as the ability to the team working, leaving scope for their autonomy and creativity. The volunteer will face a progressive path of Learning By Doing, during which will has the chance to acquire general skills and little by little to define and deepen a specific role. By weekly meetings with the supervisor to agree on the responsibilities of volunteers, who will have to plan its activities and organize themselves accordingly in the time available and according to resources. In this way it will develop the ability to identify and achieve own individual goals in a broader context, will stimulate the spirit of initiative and improve the capacity of realization of ideas and projects.
If you are motivated, enterprising and open-mind: we are the right place you are looking for!
Below you can find more detailed activities.
Application
If you are a applicant volunteer: contact us sending via email a motivational letter + CV and we will organize a Skype chat as soon as possible.
If you are a Sending Organization: contact us via e-mail or call and we will organize a Skype chat as soon as possible.
Contacts
+39 0695200054 (only calls) // +39 329 7647748 (only WhatsApp messages or calls)
---
MORE DETAILED ACTIVITIES:
1) Promotion of best practices for Local Development & Social Turism
Support to the organization of book presentations, meetings, thematic festivals

Support to the organization of walking, group tours and promotional activities of the historic and cultural heritage
2) Promoting of interculture and contrast to xenophobia
Management support for thematic play&learn classes in school

Support in the management of recreational activities and deepening on the subject during events and other public events
3) Enhancement of local enogastronomic typicity and their discovery and dissemination as chance of meeting and exchange between different cultures
Support in the management of events and cross-cultural kitchen nights as pasta party, pizza party, world cuisine party
4) Promotion of environmental sustainability and experimental best practices of self production
Support to the organization of practical workshops on experimental and innovative agricultural techniques
5) Support to the association's communication activities
simple publications, updates and / or translations of articles and post on websites, blogs and social networks

Support the production and dissemination of graphic materials and multimedia

Support in the production of short texts, claims, communication campaigns
6) Support to the association's volunteer activities
Support on the orientation to the various volunteer programs (sending)

support in the management of workcamps and other international volunteer projects (incoming)

agent of dissemination of best practice of volunteering by personal and direct witness (through: meetings, multimedia materials …)